Last spring, we wrote a blog post called Boondocking for Non-boondockers after our time boondocking in Texas. This year, we're back, and we're taking boondocking baby steps. We're getting a little more off-grid, staying a little longer, and we're even making it possible to have a few more modern comforts. It's definitely been a step up from last year!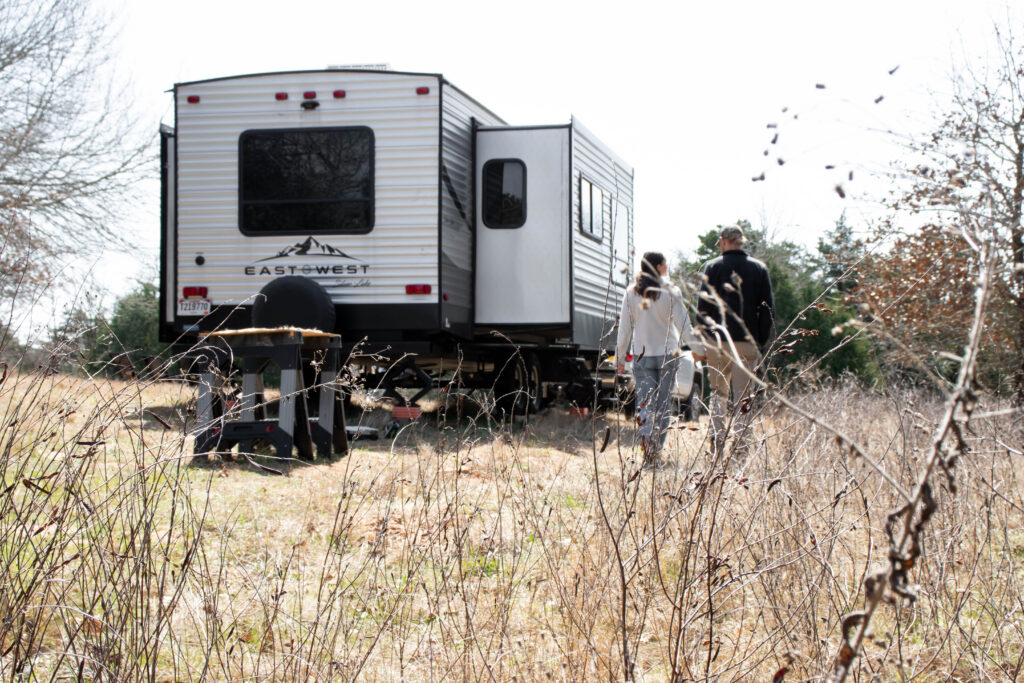 If you want to do a little bit more with your boondocking experience, check out the baby steps we've taken to improve our boondocking:
The biggest concern when boondocking is usually electricity. We need electricity for a lot of things like heating & cooling, running appliances, charging electronics, and even to run the water pump. After some finagling, we got ourselves set with a pretty great power setup for this boondocking trip.
In the fall, we upgraded our 2 deep-cycle marine batteries for 2 Lithium batteries. These batteries let us use more of their power before causing damage to the batteries. With just these 2 batteries and our 2000 watt inverter, we can overnight with no problems – and that includes running our chest freezer all night in addition to normal things like the lights, furnace, and water pump. 
For this trip, we wanted to really get off-grid for a bit, and we planned nearly a month-long boondocking trip. So to recharge and maintain our batteries, we borrowed some equipment from family. We are currently working with 100 watts of solar panels and a 4500-watt generator to bring in power.
The solar panels mostly help us maintain our battery levels during the day (that dang chest freezer does pull a bit of power), charging the batteries only between 1 & 5 amps at a time on a really sunny day. With the 4500 watt generator, we can charge our batteries, run the A/C or the infrared heater, and keep our chest freezer running with no problems. 
A note about our generator experience:
This generator is not specific to RVs, so we have to adapt all the way down to a 120V outlet for our power. With a 50 amp outlet, I'm sure we would be able to pull in even more power and run even more electronics for the ultimate modern comfort! When we look to buy a generator, a 50 amp outlet will be a must for us.
Since we got our lithium battery & inverter setup with the charge monitor, we've noticed that our batteries have been charging inconsistently (we have a hunch that this might be a faulty converter, but can't confirm that.) We've found that our batteries will dip very low before charging, and at times even when they are at a low percentage will only charge about 15 amps at a time, even with a massive 4500-watt generator putting out plenty of power!
Needless to say, this is not a situation that is conducive to a long boondocking trip – for a couple of days when it got super cold, we were running the generator for way too many hours a day and still weren't able to fully charge our batteries. Until we can figure out what the real problem is, we've gotten around this issue by using another external battery charger that clamps straight onto our batteries in addition to the converter. This allows us to charge our batteries much faster when they are low and still gives us the control to manually slow the charging process down as they get fully charged.
After our experiences on this longer boondocking trip, we have a much better understanding of how to manage our power while off-grid. While we love the idea of the clean energy of solar, the 100 watts we are currently using isn't enough to sustain us, and if my rough math is correct, we would need a LOT more solar panels to be able to recharge our batteries fully in one day.
Not to mention, we'd be out of luck if we took a cloudy or rainy trip. We are really enjoying working with a generator because it can fully charge our batteries in just a couple of hours, and while it's running, we can enjoy amenities like AC, our infrared heater, and even the microwave – all things that our 2000 watt inverter would never be able to run. Our next boondocking investment will most likely be a generator!
We're all always worried about power, but once we've figured out how to recharge the batteries effectively, we can pretty much have boondocking power indefinitely. It's the water and holding tanks that tend to limit a stay now.
For water, we completely filled our 50-gallon fresh water tank before arriving at our boondocking spot (after fixing an issue with the vent hose). To stretch our water supply even further, we also filled a 5-gallon jug for extra water and bought a couple of gallons of spring water for drinking. We knew this amount of water wouldn't last us the whole trip, so we needed a way to refill – ideally without moving the entire RV! The 5-gallon jug is really helpful for quick refills. It's an ideal size for us, still manageable in our minimalist lifestyle, but gives us enough water to last for a couple of days. Since we are staying close to family, refilling this jug is super easy (and free!), but you can also fill water from RV parks and even from water refill stations in grocery stores and gas stations. While we are still working on our original water stores, we can last about a week. Then, between being ultra-conscious of our water usage and refilling with the 5-gallon jug, we can usually go 2 days before we need to fill the jug again and get more water.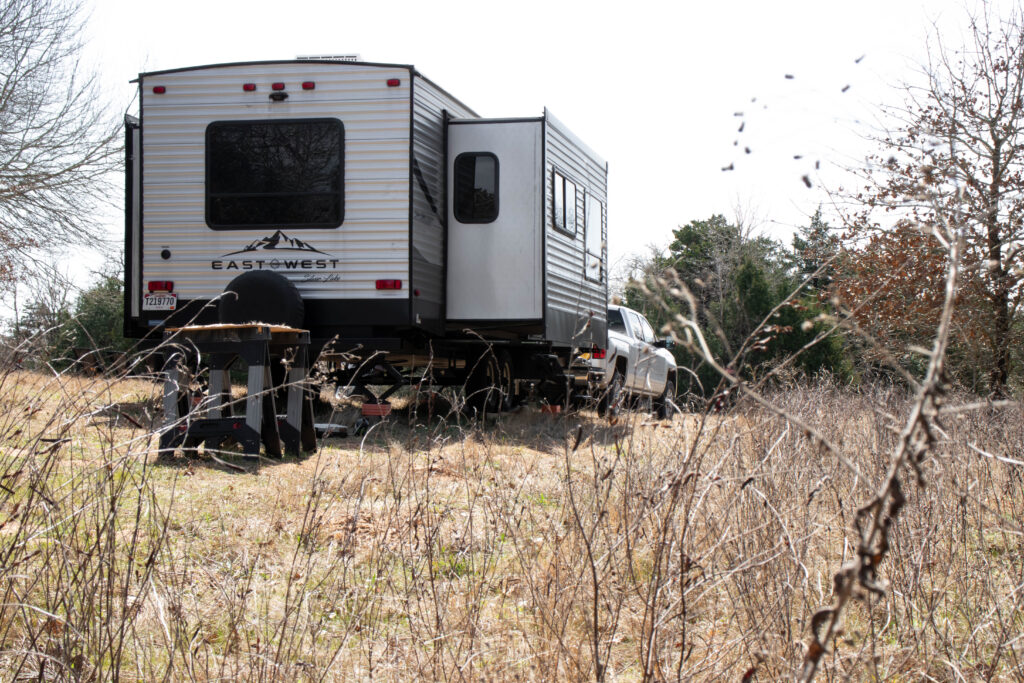 So really, water and power are pretty negotiable when out boondocking, as long as we're staying on top of it! The one thing that's not negotiable is the holding tanks. When those are full, they're full, and that means they need to be emptied. Since we aren't interested in having to keep around a separate, independent holding tank, that means we're towing the RV to a dump station – something we want to do as little as possible. So for us, the name of the game is making our holding tanks last as long as possible! 
We have a few tricks for this, and it mostly includes using water outside when we can.
This trip, we wanted to make our holding tanks last nearly 2 weeks (double when we usually dump them), so we've really embraced some serious back-country camping vibes.
This includes dumping most of the dirty dishwater outside (before it has time to sit and get stinky, so our site still smells nice), hanging up a tarp and showering outside with our outdoor shower, and even embracing nature's outhouse from time to time! While this doesn't sound like luxury living, we don't mind having to spend so much time outside – after all, that's usually one of the main reasons we're boondocking in the first place.
For this trip, we dumped our tanks after 13 days of camping and definitely could have stretched at least our gray tanks a few more days. As any RVer knows, packing up and unpacking is way more involved than most people assume, but in our experience, that was the only hassle of having to dump our tanks! We visited a nearby RV park and paid $15 to dump all of our tanks and fill up our fresh tank with water with no issues. All in all, the whole process only took us the morning, and we still had the afternoon to enjoy nature and get back to our hunting trip!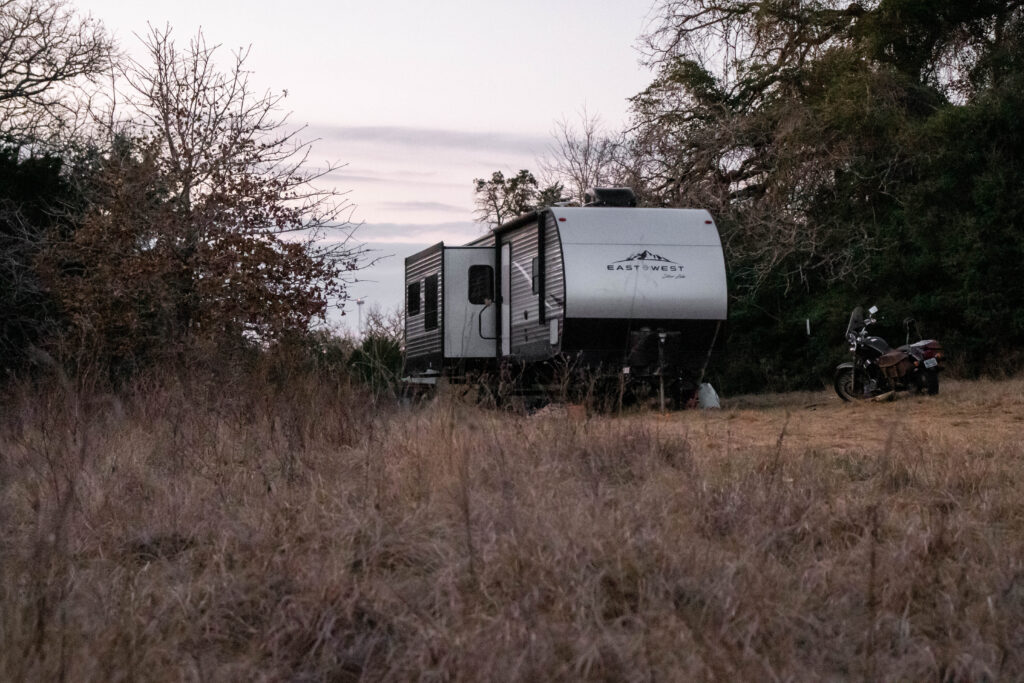 With all of the boondocking baby steps we've taken, we can accomplish more while we're out boondocking and stay longer. We have more power, more water, and can stretch our holding tanks further, and now we can go a full 2 weeks in one spot without even having to dump our tanks. Ultimately, boondocking is always going to require extra work compared to staying at an RV park, and it's always going to be a little more rugged. But we think it's worth it to get totally off-grid and disappear into nature, even if just for a little while. You can bet there's going to be a lot more boondocking on our horizon with the new capabilities we have!
We'll shoot you a message when we release big projects