Nearly three years ago, Tyler and I made the decision to move into our RV and travel full-time. Everything in our life pointed to this being the best decision for us – everything except our guinea pig, Mose. I had heard over and over again that small pets get stressed easily, and when they get stressed, they get sick easily. The full-time travel lifestyle is definitely not stress-free for a small pet, and I was convinced that this lifestyle might have a negative effect on Mose's health and happiness. While I saw plenty of RVing dogs, cats, and even rabbits, I couldn't find any examples of other RVers who had a guinea pig. With no examples of happy traveling piggies and plenty to worry about, I was apprehensive to say the least.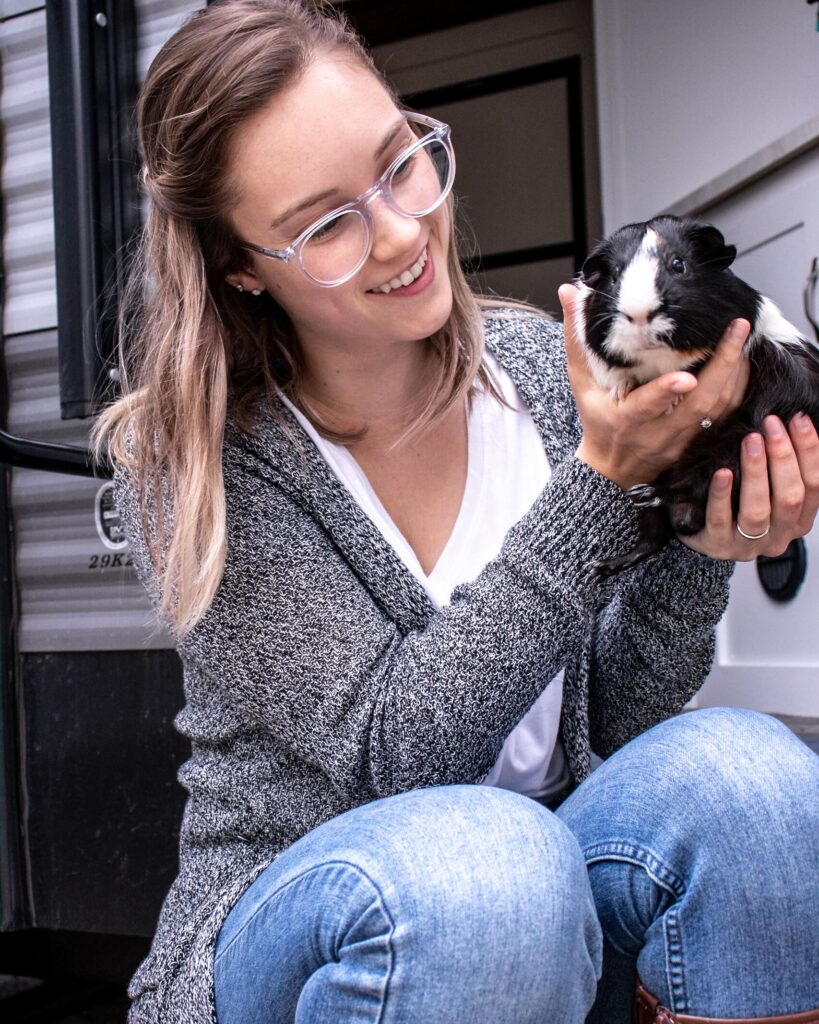 In the end, we came to the conclusion that RV life was the best thing we could do for us, and I couldn't even consider leaving Mose behind. So I decided that I would do everything in my power to make the travel lifestyle suit his needs. I made a plan for driving days, bought toys and treats and gear, built a custom cage and playpen, and prepared our little piggie for the road. And that was the best decision we could have made. 
It turned out that Mose absolutely THRIVED in RV life! He was just as happy, I'd say even happier than he was in our apartment. He lived a long, happy life, and spent 2 ½ of his 6 ½  years of life on the road. Tyler & I were recently reminiscing about our favorite pig, and I was reminded of how happy he was and all of the good times we had, especially while traveling full-time. I was so worried that this lifestyle would be detrimental to Mose's health and happiness, and in all actuality, I know that he loved this lifestyle! 
If you feel that your small pet and a life of travel are pulling you in opposite directions, keep reading!
Our guinea pig, Mose, was one of the happiest, healthiest, and definitely most well-traveled guinea pigs on the planet.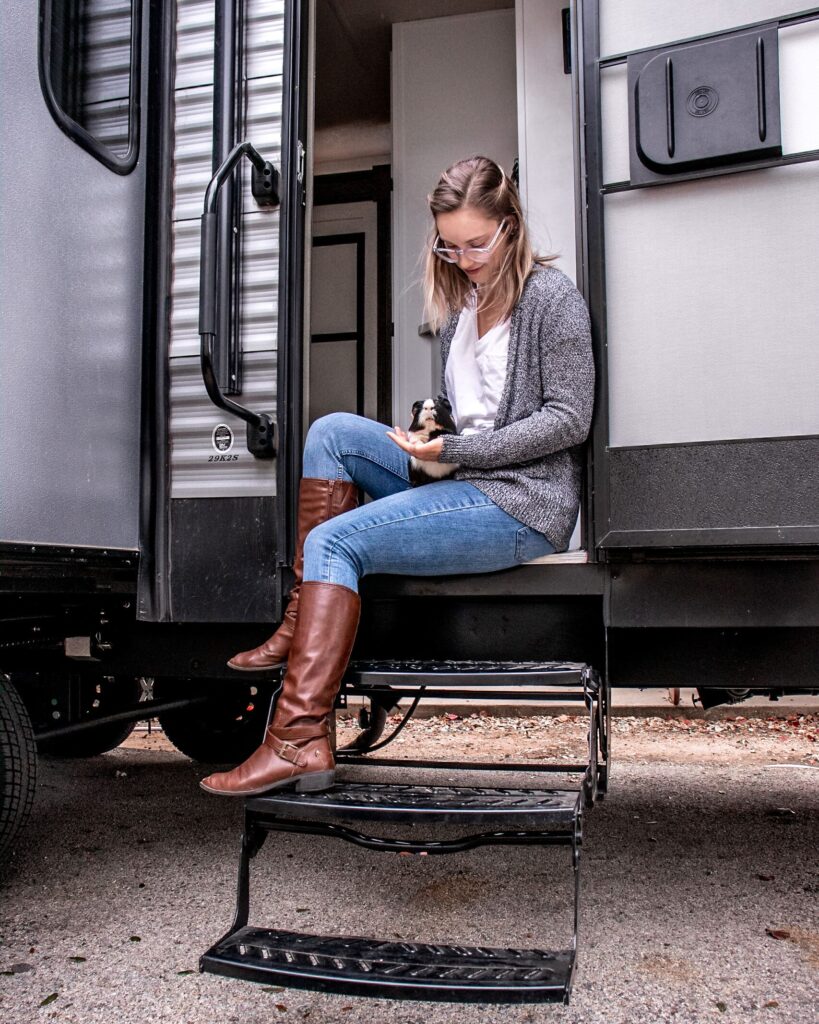 1) Tiny Living for Tiny Pets
Mose fit perfectly into our RV. Our East to West Silver Lake had an entertainment area with a recessed counter top that was the perfect size for a guinea pig cage. And when we moved into our Alta travel trailer, we repurposed a desk area for Mose's cage – there are a lot of RV floorplans that have a perfect space for a small pet if you use a little creativity! After a trip to Home Depot to get some corrugated plastic, an Amazon order of wire cubes, and an afternoon of assembly, Mose had an affordable, custom-built cage that utilized our space efficiently and gave him plenty of space for zoomies and popcorning.
The true benefit I noticed when moving Mose into our RV was how central he became to everything we did. Because we had more square footage in our apartment, Mose had his own little corner. In the RV, Mose was in the center of everything, adjacent to both the kitchen and the living room. This meant that we were always nearby and exciting to him, whether we were cooking, eating, watching a movie, working, or doing literally anything else inside. Mose ended up getting a TON of attention – pets every time we walked by, or even just stopping and talking to him, there was never a day when he didn't get an excess of love and attention from his humans.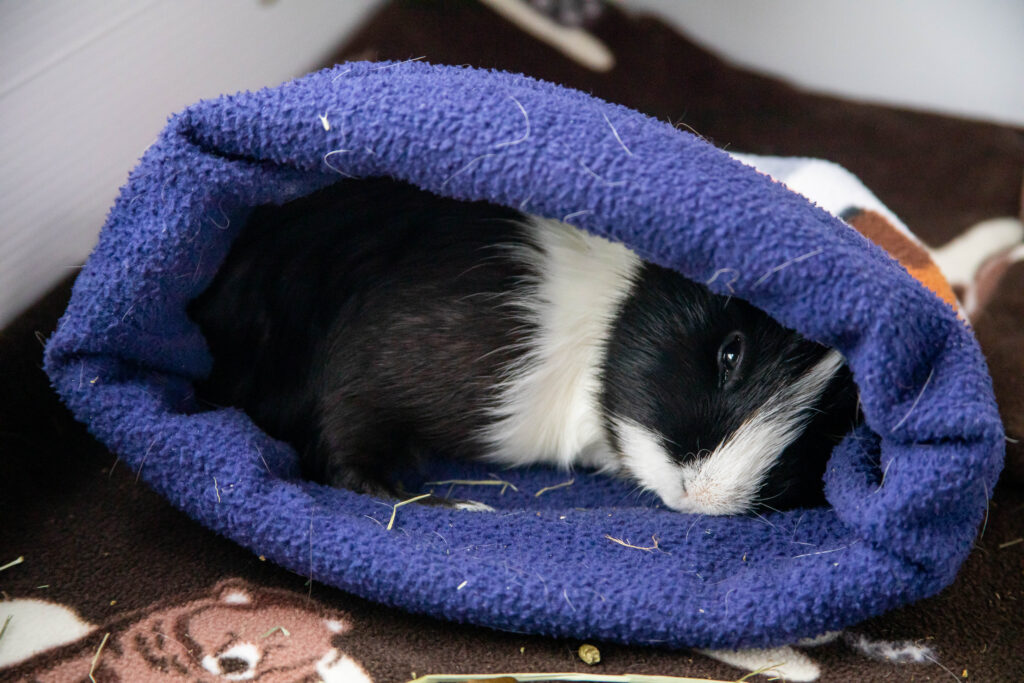 2) Outdoor Lifestyle
When we moved into the RV, our small space encouraged us to spend more time outside, which meant Mose got to spend more time outside! The RVing lifestyle is somewhat magical for how it can transform a normal day into an outdoor camping day without sacrificing any comfortable amenities, and Mose got to experience that, too. Whenever we would head outside to cook, read, work, or just hang out, Mose got to come with, run around in his playpen, and munch on fresh grass. I think his time spent outside in his playpen was probably his favorite thing, and because so many RV parks are dedicated to having well-maintained sites with nice grassy areas, he got to have a buffet of his favorite food from 17 different states.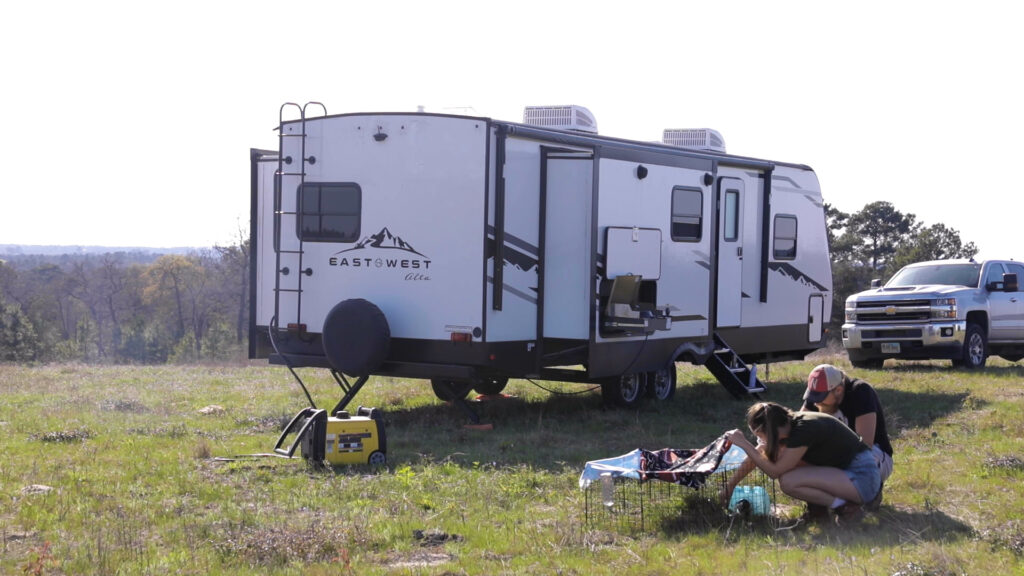 3) Hard Times Make Us Stronger
Because Mose was still relatively young when we moved on the road, we felt pretty good that he would be strong and healthy enough to handle the stress of it. Of course, we always did our best to minimize Mose's stress, but at a certain point, we recognized that he didn't seem to mind! On cold nights, I would do everything in my power to insulate Mose's cage and give him extra heat.The next morning, I would always find him even more excited and more energetic than usual. After a long drive, I always put him in his playpen right away, and within seconds he forgot about the drive entirely. He truly was a resilient pig!
Tyler and I love learning about health, and we have learned so much about how important acute stress is to balancing hormones and improving overall health. I'm no veterinarian, but my theory is that our little pig became even tougher and healthier because of his life on the road – both the excitement and the hard times. When Mose got sick in the end, I took him to a veterinarian who remarked that if she hadn't seen his chart, she would have guessed that our 6½ year-old pig was only 2 years old! I'm sure I can also attribute some of his impressive health to the intense research I put into his nutrition, but if a little bit of stress will make me look 30 when I die at 90 years old, sign me up!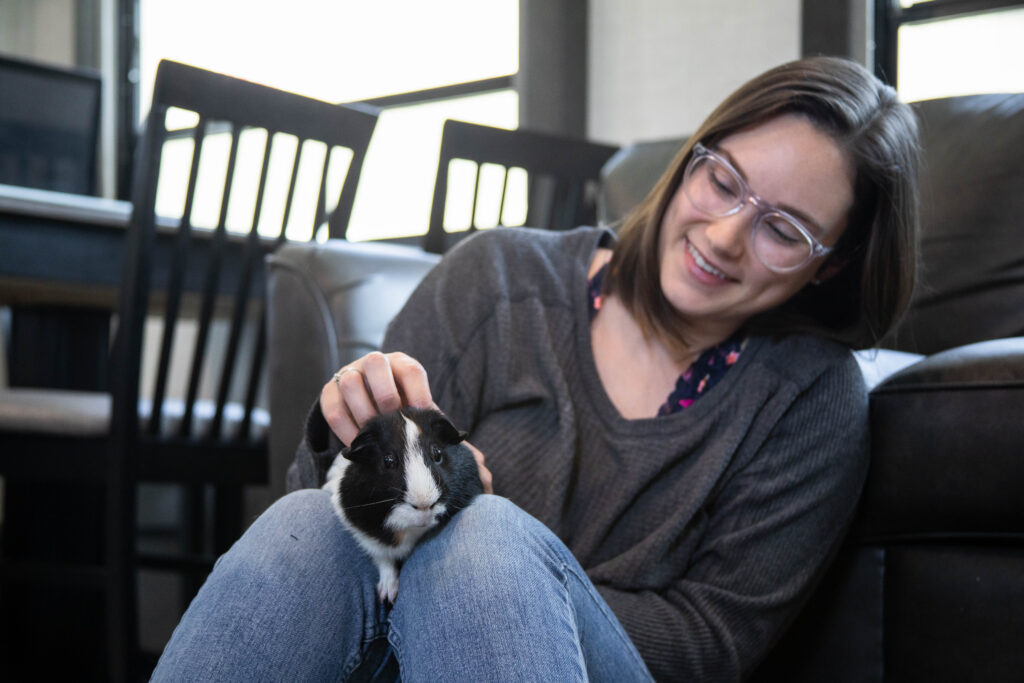 We recently had to say goodbye to our sweet Mose, and I was struck by what a huge part of our life this tiny pig was. Our life of travel was so enhanced by his presence, from having an extra companion while sitting outside to sharing the excitement of cooking dinner, and now that he's gone it feels like there's a lot that's missing. I think Mose was a very special pig, but I don't think he's the only guinea pig that would enjoy this lifestyle. 
Every small animal is an individual, and I've definitely had small pets that would not have fared well in a life on the road. However, I don't think that they are inherently poorly suited to this lifestyle, especially if they are young and healthy. If Mose is any example, the RVing lifestyle can be a wonderful life for a guinea pig, in some cases even better than a stationary life! It's possible that your tiny furry friend can come along with you for the adventure of a lifetime and thrive while doing it.
We'll shoot you a message when we release big projects