Preparing for Bowhunting Season

Last year, we went on our first whitetail deer bowhunt in Wisconsin. There is a TON to learn when getting ready for your first bowhunt, and we spent a lot of time researching, educating ourselves, practicing, and buying all the gear we needed. This year, we are getting ready for our second big game, cold-weather hunt, and it looks a little different this time around.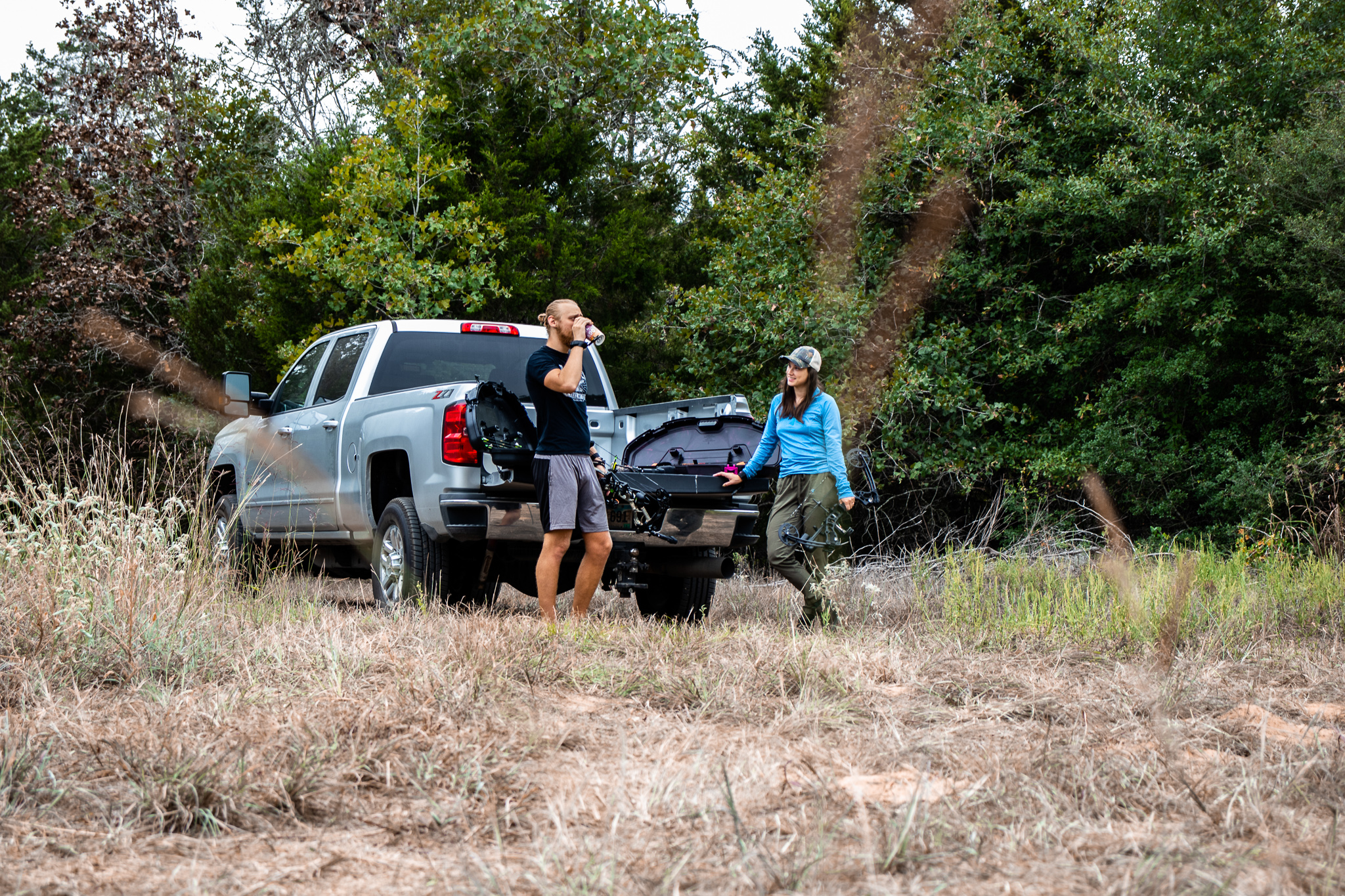 Here's how we're preparing for our second hunting season:
1. Practice Practice Practice
The most important preparation to make sure we take an ethical shot is pretty obvious: practicing archery. Of course, we knew this last year as well, and Tyler practiced his butt off to get his shots dialed in before the season. But this year, we are spending our pre-hunting season down in sunny Texas on private property, and we have been able to shoot our bows every single day.
We've also added in a couple of exercises with light weights to strengthen our bow arms for stability. Tyler likes to hold a 15 pound kettlebell outstretched as long as he can, and Andrea likes to do straight arm raises with a resistance band as well as John Dudley's Six Minute Solid shoulder exercise.
This year we've noticed how much archery feels like riding a bike! Tyler especially has discovered that he is shooting good groupings without quite the intensity of practice he put in last year, while newbie I am practicing with more intensity to build up my skills.
2. Get the gear
For year 2, we are already pretty geared up! Our cold-weather hunting clothes are good to go, thanks to several trips out to a hunting store during last year's hunt to buy warmer gloves and neck coverings. But we are making a couple upgrades to some of our gear.
The biggest upgrade is our broadheads. Last year, Tyler used a brand of broadheads that was highly recommended, but when he shot his beautiful 9 point buck, the broadhead broke. We weren't able to recover the buck, and while we can't be sure exactly what happened, we wonder if a better broadhead would have produced a different outcome. So this year, we upgraded to broadheads with reinforced tips from Quality Archery Designs. We also invested in lighted nocks and a blood trailing flashlight to help give us every possible advantage to find a downed animal.
Last year, we didn't know what to expect in terms of the cold weather. We quickly discovered that with ambush hunting and being unable to move, our extremities were always the first things to get cold. Our cold-weather upgrades included heavier gloves with a mitten flap for additional warmth, and many, many hand warmers! The hand (and sometimes foot) warmers became almost a necessity on the really cold days, and we loved them so much that we found ourselves going to several stores to buy as many as we could!
3. Focus up
If you tune into the Wild Hixsons Podcast at all, you've probably heard us talk about how much focus hunting requires. We both have experienced the importance of focus on different hunts since last year, Tyler while hunting a raccoon and Andrea on a squirrel hunt. In both of our experiences, we discovered both how imperative an intense level of focus is and how difficult it is to control the excitement and adrenaline to achieve it!
Learning about focus while hunting with a gun has been a good stepping stone for us, and we have been working on translating that to the more complex art of archery. Now, we treat our archery practice sessions as mental focus sessions as well and view our mental focus as another muscle to train as we prepare for this year's hunting season.

If you can't tell, we are getting excited for our second whitetail deer season! This year we will be hunting in the Upper Peninsula in Michigan, and we're hoping that all we've learned last year can translate into a successful and, most importantly, fun hunting season.
We'll shoot you a message when we release big projects