My Favorite Hikes in Tucson

The secret's out: we love Tucson! One of my (Andrea) favorite parts of coming out here is the hiking. While I've gotten nowhere near to hiking all of the miles of trails around the Tucson area, I've been here enough times to figure out a few of the gems!
These are my favorite day hikes around Tucson.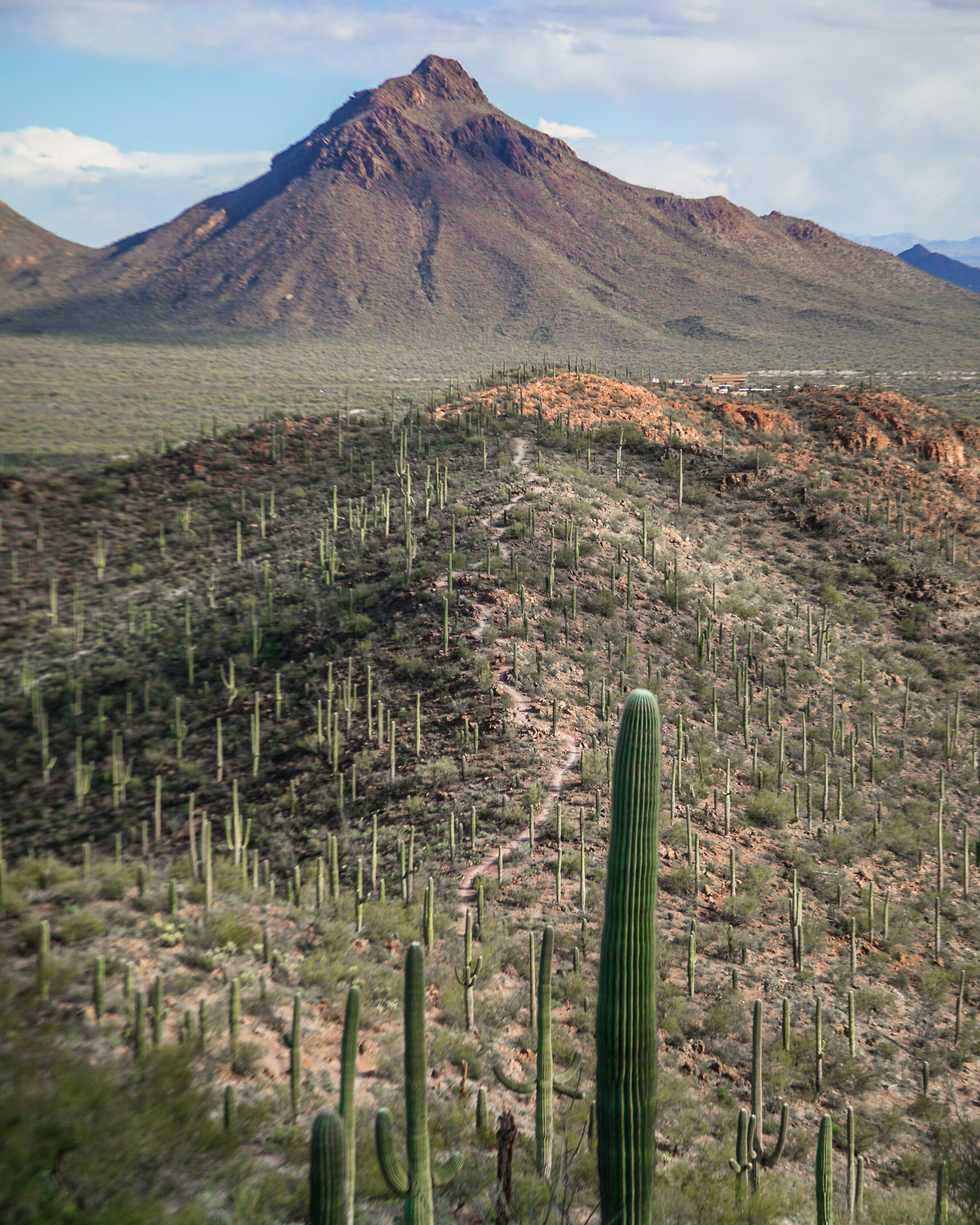 Best Day Hike: Brown Mountain
This 4-mile loop hike is in Tucson Mountain park, free of charge! Personally, I find the length and difficulty of this hike perfect for getting a good workout in and disappearing into nature for a couple of hours without taking up an entire day. But the real reason this hike is my favorite is because it's gorgeous. Look up and you'll see incredible views of Golden Gate Mountain and even into Saguaro National Park West, look down and you'll see vibrant rock underfoot ranging from deep purple to bright red and orange. Not to mention the lovely saguaros lining the whole trail. If I'm hiking in Tucson, there's a 50% chance I'm on this trail.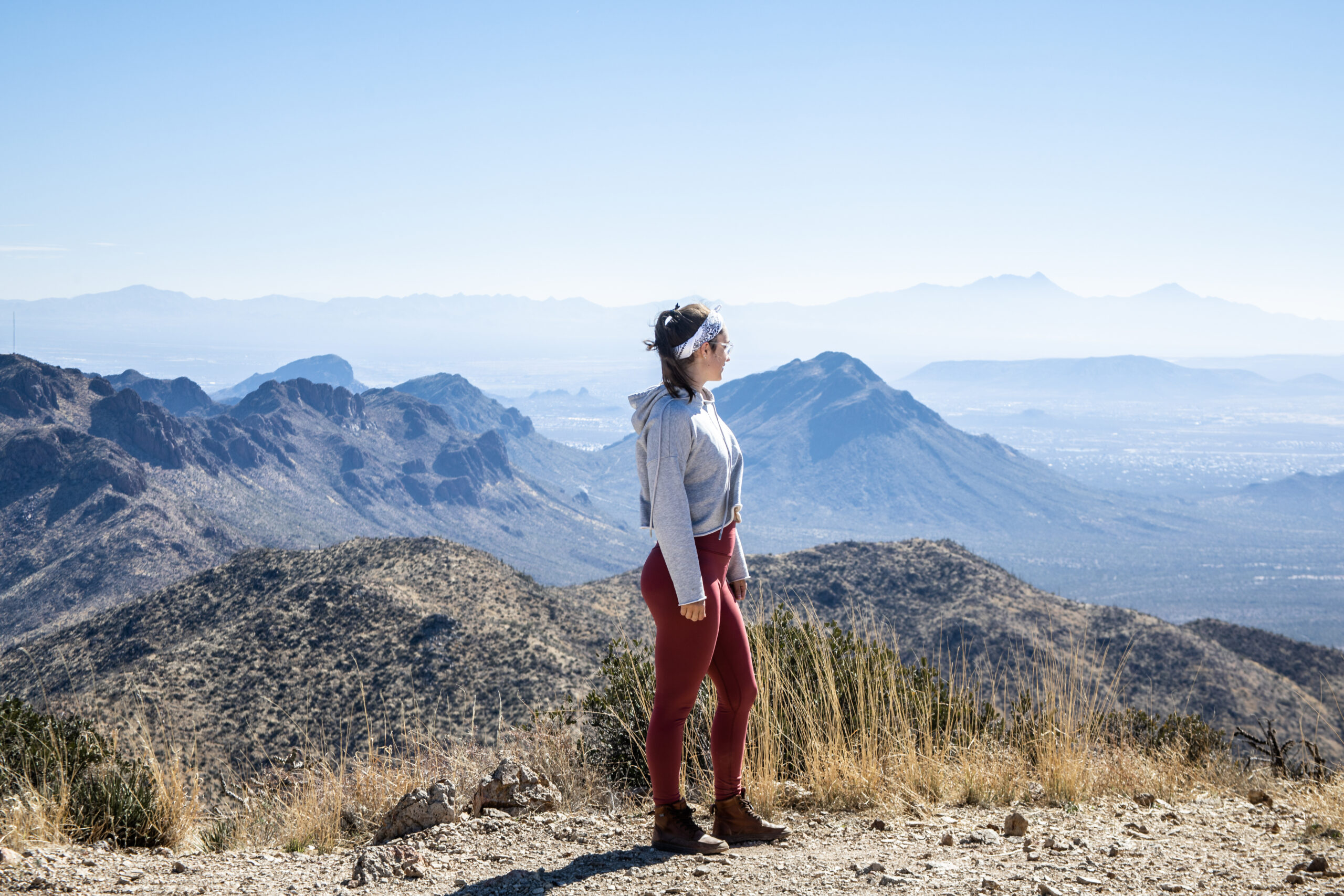 Best Difficult Hike: Wasson Peak via King Canyon
This is a 7-mile out and back trail in Saguaro National Park West that is steep, rocky, and in my opinion, quite tough. But the view at the top of the peak is stunning and worth it! The trail itself isn't nearly as beautiful as Brown Mountain, it's mostly loose rocks, all a pale sandy brown, but of course there are plenty of cacti to keep it interesting. If you're looking for more of a challenge with an incredible view, this is a great hike!
Honorable Mentions: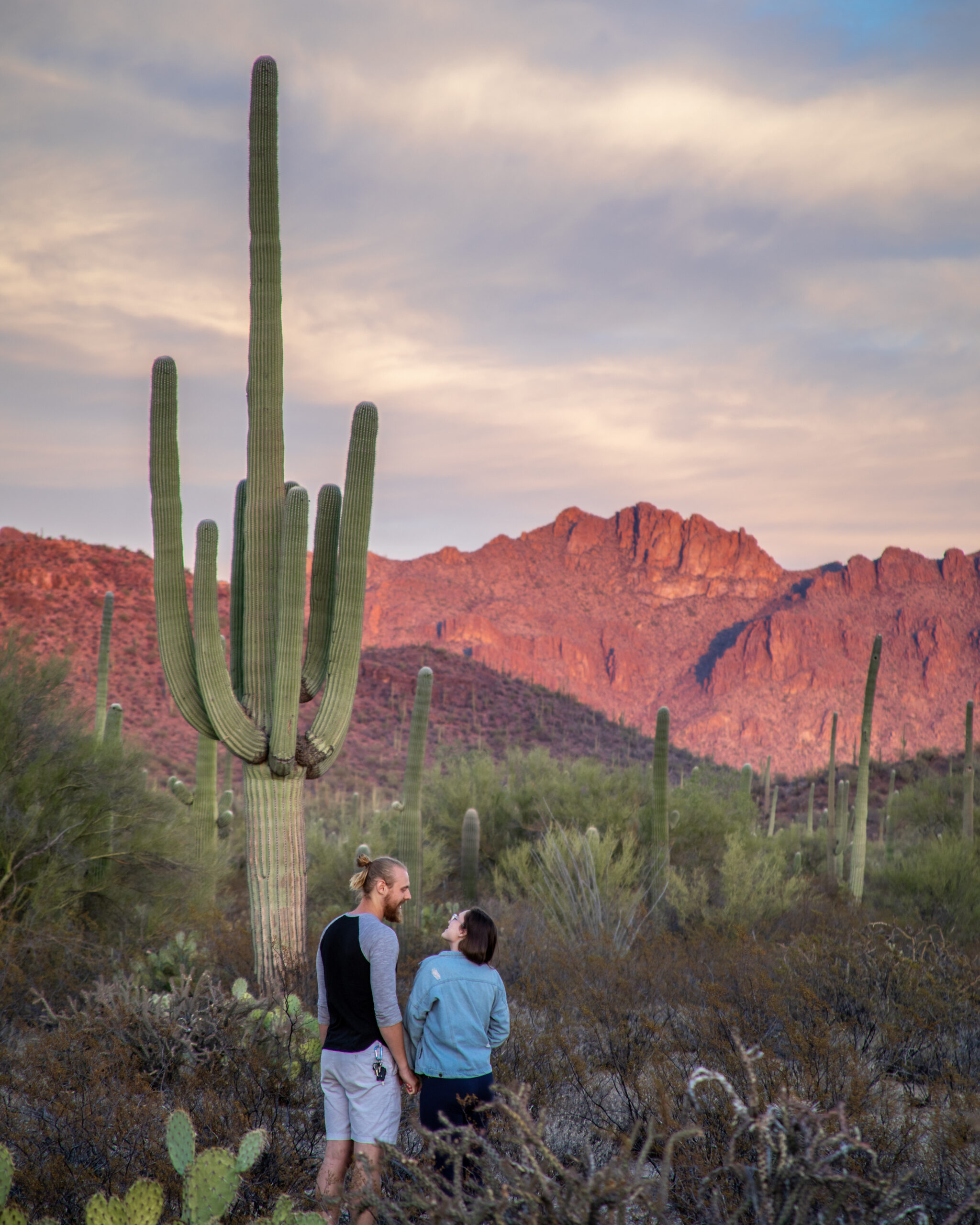 Tucson Mountain Park
Tucson Mountain Park is filled with miles of interlacing flat trails in the foothills of the mountains, and I have hiked quite a few of them. These trails have less beautiful views, but are also less populated and have a lot more wildlife out and about in the morning and evenings. You could wander these trails for miles, or walk from one end of Tucson Mountain Park straight into Saguaro National Park West and back again without repeating a trail.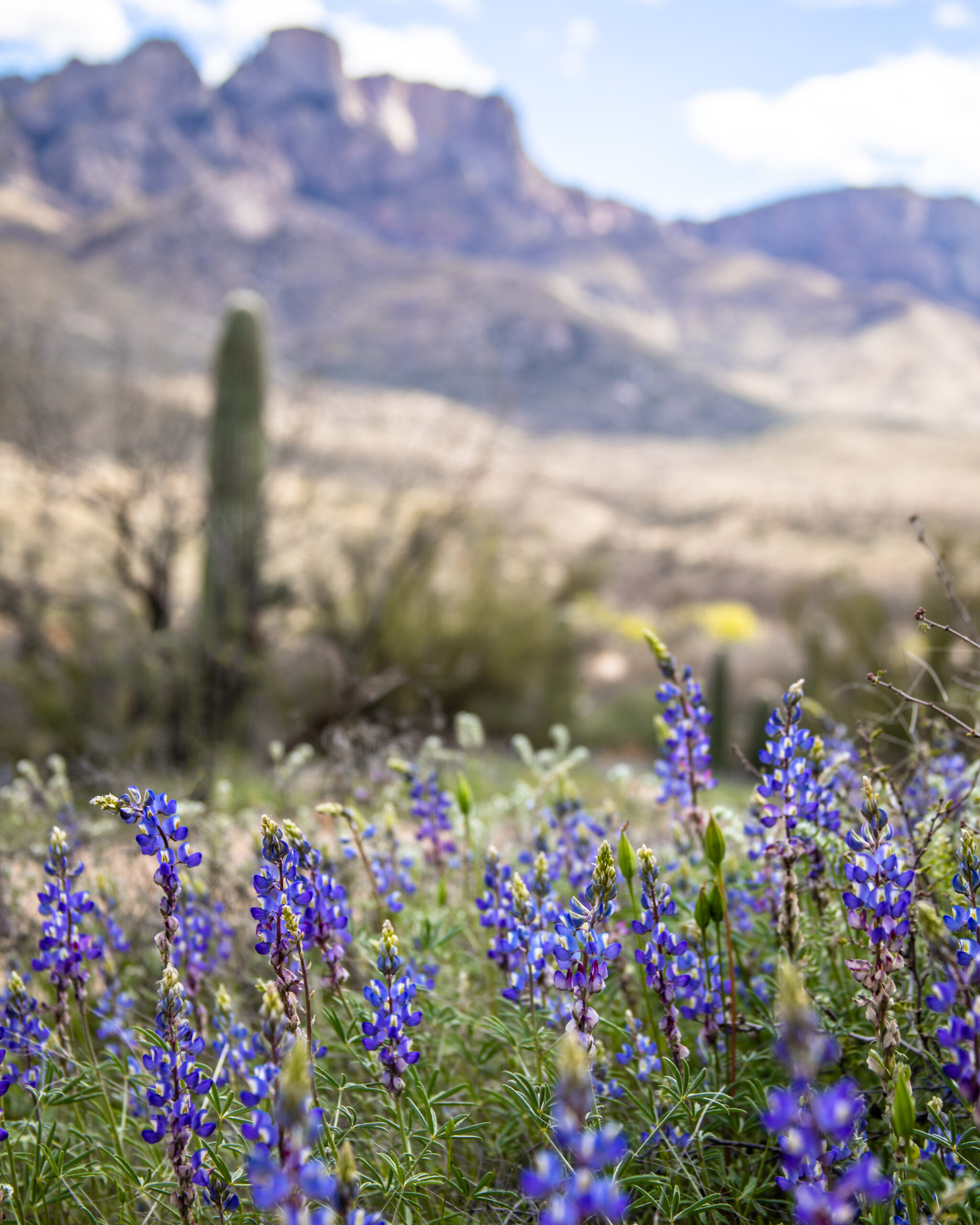 Catalina State Park
Catalina State Park has a ton of vegetation, and in the spring, some really beautiful wildflowers. In some areas it barely feels like Tucson because there is so much grass! If you want to see wildflowers in late March or April, this is a great option (although to be honest, Brown Mountain has some really fantastic wildflowers and blooming cacti in spring as well). I took a trip out to Catalina State Park to see the wildflowers in late March this year, and while I think I was a little bit early, I wandered a few of the trails until I found some beautiful patches of purple and yellow wildflowers. Plus, there are some fun creek crossings in the spring as well. I'm the kind of person who loves to take my shoes off and wade through creeks on a hike, and the washes in Catalina State Park were active with clear, cool water.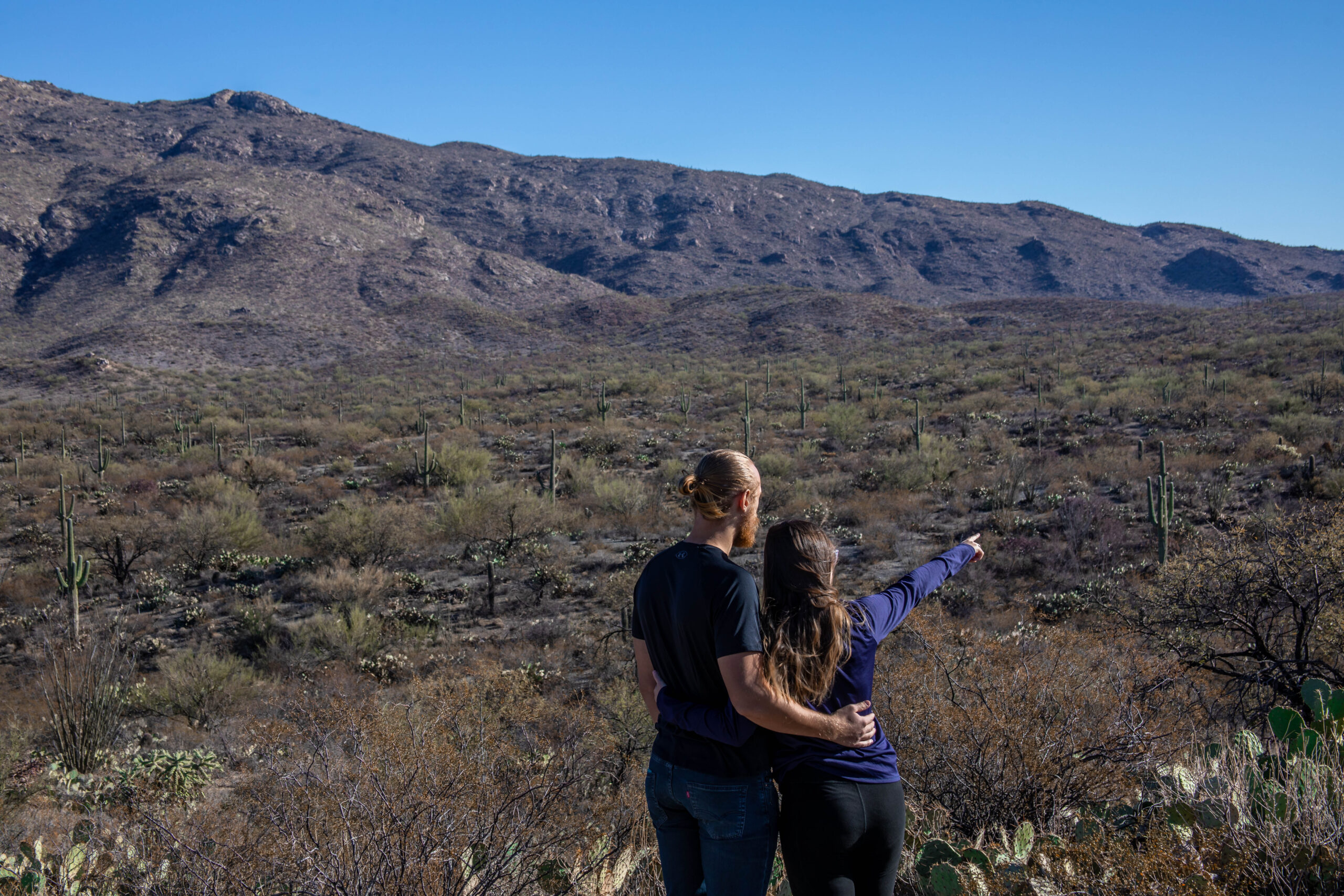 Saguaro National Park East
I'm not as familiar with Saguaro National Park East as I am with the west side of Tucson, but there are a ton of longer trails for backpacking and dispersed camping (and of course any of those trails could be made into a day hike by just turning around when you're ready to go home). In my limited experience, Saguaro National Park East has some more interesting rock formations and very dense saguaro forests compared with the west side. It's worth a visit even just to drive through and see how different the east and west sides of Tucson are!
My Wishlist Hike:
Mount Lemmon
I haven't made it out to Mount Lemmon yet, but I'm always on the lookout for my next hiking adventure. Plus, I have heard so many good things about the area! It's a bit of a drive north of Tucson, but there are quite a few trails up high in the mountains up there. This area is so unique in comparison to the rest of Tucson because it turns into a completely different landscape as you ascend the mountain. Once you get high enough, instead of cacti there are evergreens and snow in the winter (in fact, there is a ski resort up there!) The landscape reminds me more of the Rocky Mountains around Denver.

We'll shoot you a message when we release big projects